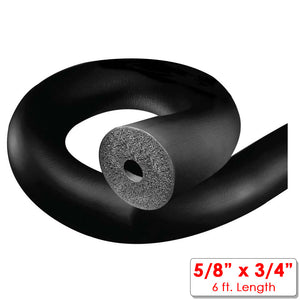 Insulation Pipe
SKU:
50750
LENGTH - 6 FEET
ALU: 23450
Size: 5/8" X 3/4"
Insulation Pipe
Color: Black
Material: NBR (= nitrile-butadiene rubber)
Length of Insulation Pipe: 6 Feet (1.83metre)
Inner Diameter: 5/8-inch
Thickness: 3/4-inch
Features:
Use on hot or cold pipes.
Simple, easy way to save energy costs.
Blocks heat loss or gain to save energy.
Stops condensation on cold pipes to prevent water damage.
We Also Recommend