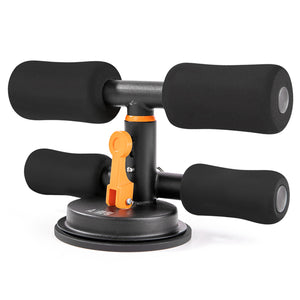 Sit-up Bar
SKU:
52820
SIT-UP FOOT HOLDER
Model: FT302
Brand: AGNITE
ALU: 6970914826895
Color: BLACK

Agnite – Sit-Up Bar
Sit-up foot holder
Brand: Agnite
Model: FT302
Color: Black
Suction Diameter: 12.4cm (4.9")
Product Length: 27.5cm (10.8")
Adjustable Height:
First Gear: 16cm (6.3")
Second Gear: 17.5cm (6.9")
Third Gear: 19 cm (7.5")
Material: ABS + NBR + TPE + Steel
Feature:
Home exercise.
Double-pole shape.
TPE material suction cup.
Three height adjustment.
Soft and Comfortable form.
Strong suction at the bottom.
Be note: This product is suitable for smooth and strong planes, with seamless wooden floors, ceramic tiles, and marble. Uneven ground may affect the suction force.
We Also Recommend