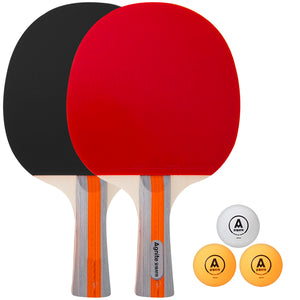 Table Tennis Racket
SKU:
50435
WITH 3 RACKET BALLS 
Model no: F2310
Brand: AGNITE
ALU: 6970914820671
Color: RED/BLACK
Agnite – Table Tennis Racket
2 Rackets with 3 Racket balls
Brand: Agnite
Model: F2310
Color: Red/Black
Particle Shape: Double-sided reverse adhesive
Material: wood + rubber + sponge
Dimension (W x H): 15 x 25cm (5.9" x 9.8")
Features:
Horizontal Shot.
3 balls included.
5-layer poplar soleplate.
Bottom high elastic sponge.
Suitable for a variety of play.
Flexible, powerful and easy to use.
We Also Recommend