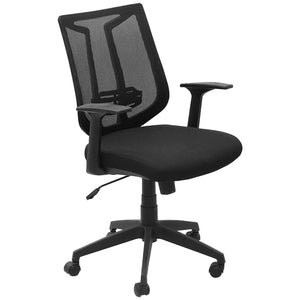 Medium Back Chair
SKU:
42403
MESH 
Model no: X-12A
Brand: ANJI
ALU: 9436
Color: BLACK
Anji – Medium-back Chair
Brand: Anji
Model no: X-12A
Color: Black
Material (Seating & Back-rest): Mesh
Material (Base): Nylon
Features:
360-degree swivel.
Adjustable Armrest Height.
Memory Foam Armrest Pads.
Comfortable Seating & Backrest.
Adjustable tilt tension knob underneath the seat that controls the rate.
Pulling out the handle to tilt back, push in to stop tilt, range of reclining angle.
Seat adjustable height from 21.7" to 18.9", up and down to a comfortable position.
Work in style at the office or at home with this ergonomically-designed, medium-back office chair.
Comfortable Ergonomic mesh office chair with Mesh Seat and Back-rest to provide exceptional support and to prevent body heat and moisture build up.
Dimension:
Overall Height: 101.4 – 94.4cm (39.9" – 37.1")
Seat Width: 49cm (19.3")
Seat Depth: 50cm (19.7")
Seat Height: 55 – 48cm (21.7" – 18.9")
Back-rest Width: 46cm (18.1")
Back-rest Height: 50cm (19.7")
We Also Recommend