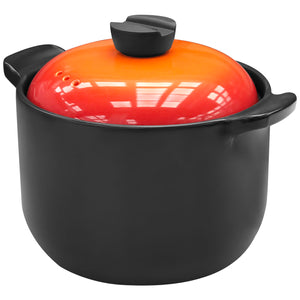 Cooking Pot (6.0L)
SKU:
47999
PORCELAIN WITH LID 
Model: RXC60B3Q
Brand: ASD
ALU: 6921880749213
Size: 6.0L
Color: BLACK/ORANGE

ASD – Cooking Pot
With Lid
Brand: ASD
Model: RXC60B3Q
Capacity: 6.0 Liter
Color: Black/Orange
Material: Porcelain
Inner Diameter: Ø21.5cm (Ø8.5")
Dimension without Lid (W x D x H): 32 x 25 x 17cm (12.6" x 9.8" x 6.7")
Features:
Gradient color pot cover.
Groove bakelit pot handle.
Side Handles: Easy to take and effortless.
Double firing at 1300°C high temperature.
Sunken Pot Cover: Close to the body to prevent spillage.
High Temperature resistance, not easy to crack, safe and stable.
Safe to use: Gas stove, Electric ceramic stove, Dishwasher & Refrigerator.
We Also Recommend