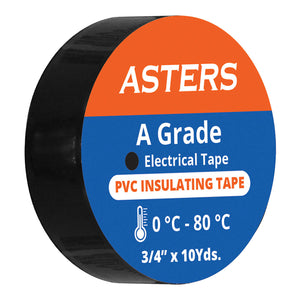 Insulating Tape
SKU:
34096
PVC 3/4" X 10YDS
Model no: 102
ALU: 5406
Color: ASST
P.V.C. Insulating Tape (3/4" x 10y)
Brand: Asters
Size: 3/4" X 10y
Width Size: 3/4-inch
Length Size: 10 yard
Color: Assorted Color
Features:
Asters Tape is a good quality electrical tape, Grade A
Due to a elastic tape backing and high quality design of the adhesive, the tape shall be applied to not only conform and produce a uniform covering in long term, but also prevent from flagging.
The high quality of Asters Tape provides to relieve your amount of repair work.
Cold Resistance: With the fine resistance to cold temperature, the properties of adhesive maintain its quality.
Uses:
Terminal processing of power-cables, wiring and insulation of electrical joints.
Protection, binding, and identification of cables and pipes.
Protection, repairs, and binding for homes, construction, tying works,
and other uses.
Bundling and repairing automotive wire harnesses.
We Also Recommend