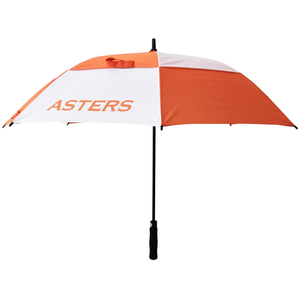 Umbrella (Ø 30")
SKU:
41346
WINDPROOF AUTO OPEN
Brand: ASTERS
ALU: 10770
Size: 30INCH
Color: ORANGE/WHITE
Asters 30-inch Windproof Umbrella, Orange & White
Brand: Asters
Size: 30 inch
Color: Orange & White
Features:
Wind & Weather Resistant: 100% Nylon, Double Canopy, Venting System prevents umbrella from inverting during high winds; Built to provide protection from rain, strong wind etc.
Durable Construction: Fiberglass shaft and ribs not only make this umbrella durable and lightweight but also provide extra safety in the event of a lightning storm
Canopy Size: 30" diameter arch provides a large area of protection suitable for 1 or 2 people.
Ergonomic Handle: Provides comfortable grip for both left and right-handed users.
We Also Recommend