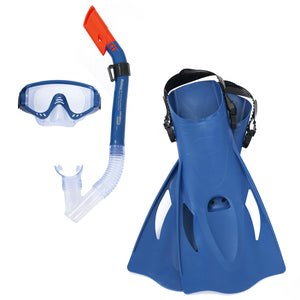 Snorkel Set (14+)
SKU:
48752
MERIDIAN SNORKLET SET 
Model no: 25020
Brand: BESTWAY
ALU: 6942138914849
Color: ASST 
Bestway – Snorkel Set
Meridian Snorklet Set
Brand: Bestway
Model: 25020
Color: Assorted Color
Lens Material: Polycarbonate Lens
Suitable for: 14+
Fins Size (US): 8 - 12
Fins Size (EU): 41 - 46
Features:
Dry Top.
Purge Valve.
UV Protections.
Adjustable Straps.
Polycarbonate Lens
Soft leak-resistant edge skirt.
Form-fitted snorkel mouthpiece.
Made with non-latex based materials.
Safety lens design with UV-protective coating.
Soft, comfort-tested fins with adjustable heel strap.
Dry-top snorkel technology prevents virtually all water infiltration.
We Also Recommend