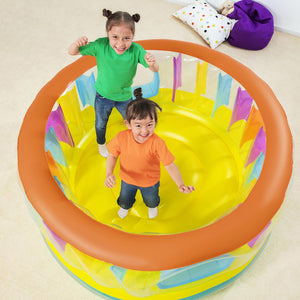 Inflatable Bouncer
SKU:
48731
BOUNCEJAM BOUNCER 
Model no: 52262
Brand: BESTWAY
ALU: 6942138952117
Color: ASST 
Bestway – Inflatable Bouncer
BounceJam Bouncer
Brand: Bestway
Model: 52262
Color: Assorted Color
Suitable for Kids: 3+
Material: Vinyl
Dimension (D x H): 180 x 86cm (71" x 34")
Features:
Inflatable sidewalls for safety.
4 foot pins, & Repair patch included.
Confidence & Communication: promotes your child's self-esteem through interactive play.
Stimulates your child's ability to get up and move around, gaining control of their bodies and movement.
We Also Recommend