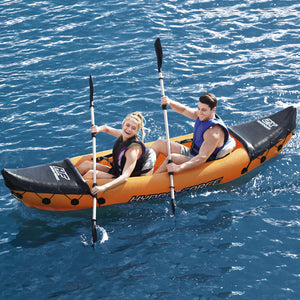 Kayak (with 2 Paddles & Air Pump)
SKU:
48734
RAPID 2X LITE 
Model no: 65077
Brand: BESTWAY
ALU: 6942138976410
Color: ASST 
Bestway – Kayak
Rapid x2 Inflatable Kayak Lite
Brand: Bestway
Model: 65077
Color: Assorted Color
Maximum Load Weight: 160kg
Material: PVC Plastic
Dimension (W x L): 88 x 321cm (35" x 10'6")
Features:
2-Person Kayak.
2 Removable Seats.
Integrated drain valve.
Made with Durable PVC Material.
Grab rope with built-in grommets.
With Air HammerTM Hand Pump.
Inflatable Cushions for Comfortable seating.
One removable middle fin for directional stability.
Form-fitted construction prevents water from entering the cockpit.
2 Paddles, 1 Air Hammer Hand Pump, 1 Removable Fin & Repair Patch Included.
We Also Recommend