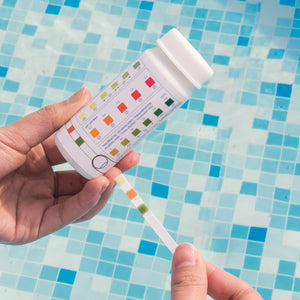 Pool Tester
SKU:
48745
POOL & SPA TEST STRIPS 
Model no: 58142
Brand: BESTWAY
ALU: 6942138918588
Color: ASST
Bestway – Pool Tester
Pool & Spa Test Strips
Brand: Bestway
Model: 58142
Color: Assorted Color
No. of Test Strips: 50
Measured Parameters: Alkalinity, Free chlorine, pH
Features:
pH.
Free Chlorine.
Total Alkalinity.
3-in-1 Test Strip.
18-Month Shelf Life.
Contains 50 test strips.
Easy Color-Match System.
The ideal solution for basic pool and spa water testing.
Measures Free Chlorine 0 to 10 ppm, Alkalinity 0 to 240 ppm and pH 6.2 to 8.4 with instant results.
We Also Recommend