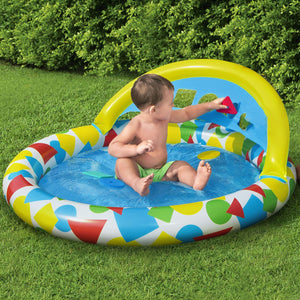 Splash Pool (45L)
SKU:
48754
SPLASH & LEARN KIDDIE POOL  
Model no: 52378
Brand: BESTWAY
ALU: 6942138983906
Color: ASST 
Bestway - Splash Pool
Splash & Learn Kiddie Pool
Brand: Bestway
Model: 52378
Color: Assorted Color
Water Capacity: 45 Liter (11.9 gal.)
Dimension (W x D x H): 120 x 117 x 46c (47" x 46" x 18")
Features:
Great for indoor and outdoor use.
Removable water blobz for cushion inside the pool.
Repair Patch, five foam toys, one water blobz Included.
Five foam shapes and corresponding holes in the canopy allow kids to play and learn.
We Also Recommend