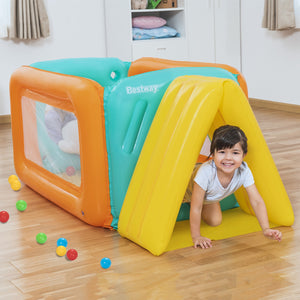 Playhouse
SKU:
51131
TUNNELTOPIA BALL PIT 
Model no: 52547
Brand: BESTWAY
ALU: 6941607322314
Color: ASST 
Bestway – Playhouse
TunneltopiaTM Ball Pit
Brand: Bestway
Model: 52547
Color: Assorted Color
Material: Plastic
Suitable for Kids: 2+             
Dimension (W x D x H): 178 x 91 x 70cm (70" x 36" x 27.5")
Features:
For indoor and outdoor use.
25 Plays balls, and repair patch included.
Colorful tunnel play area for the little ones.
Confidence & Communication: promotes your child's self-esteem through interactive play.
Fine Motor skills: helps your child develop hand-eye coordination and basic levels of dexterity.
With an entrance on both sides, mesh on the sides and an open top, the parent is never far away to help a child out.
The two entrances and ensure that the little ones are stimulated to crawl or walk and thus gain control over their bodies.
We Also Recommend