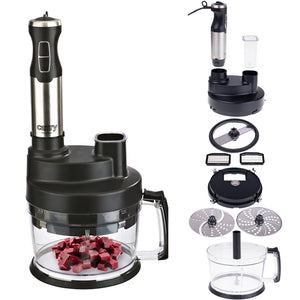 Food Chopper (2L)
SKU:
50564
400W 
Model no: MJ-FM4001W
Brand: CAMRY
ALU: 6939962768960
Color: BLACK
Camry – Food Chopper
Accessories Included.
The CR4623 blender set is a multifunctional device needs in every kitchen.
In addition, the whisk allows you to whip egg white, creams, and whipped cream.
The selection of the speed of rotation is facilitated by a smooth regulator and the TURBO function.
The food chopper can be used as a hand blender, which will allow you to quickly mix vegetable soup, prepare mayonnaise or sauce.
The devices were equipped with working containers:0L bowl, 600ml beaker with a lid and 400ml chopping bowl. All metal accessories have been made from stainless steel.
Thanks to the high power of 1600W and numerous accessories, the blender will helpful when blending sauces, creams, mayonnaises, soups for children, and pancake batter.
Attached 2 discs are cutting into plasters enabling also cabbage cutting and cutting vegetables into thick or thin chips for healthy salads and granulating potatoes for pancakes.
A potato masher helps to make tasty mashed potatoes quickly. Chopper crushes nuts, dried fruits, and vegetables, chopping cubes to facilitate the preparation of vegetable salads and beets for borscht.
The set includes a whisk for whipping eggs, creams and whipped cream, a potato puree masher, thanks to which we will prepare vegetable puree, a chopper for chopping nuts and dried fruit, cubic cutter for cubes: 8x8 mm and 11x11 mm, disc for slicing /shredding, disc for granulating potatoes.
Camry – Food Chopper
14 in 1
Brand: Camry
Model: CR4623
Color: Black
Big Bowl Capacity: 2L
Rated Power: 1000W (max. 1600W)
Rated Voltage: 220-240V~
Rated Frequency: 50-60Hz
Material (Blade): Stainless Steel
Material (Bowl): Plastic
Accessories Included:
Whisk (Egg beater) – x1
Blender foot – x1
Puree masher – x1
Beaker with lid (600ml) – x1
Chopper grinder (400ml) – x1
Potatoes granulator – x1
Slicer shredder – x1
Cubic Custer (8x8mm) – x1
Cubic Custer (11x11mm) – x1
Functions:
Hand blender
Egg beater
Potato puree masher
Chopper 400ml
Cubic cutter in cube sizes: 8x8mm & 11x11mm
Disc for slicing /shredding
Disc for granulating potatoes for pancakes
Warranty: 12 Months Warranty
Click here for User Manual
We Also Recommend