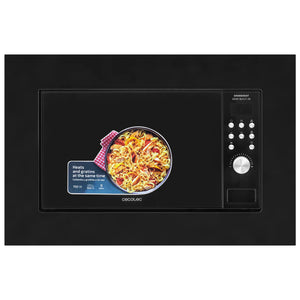 In-Built Microwave Oven (20L)
SKU:
48326
IN BUILT
Model no: 1375
Brand: CECOTEC
ALU: 8435484013758
Color: BLACK
Size: 20L
Cecotec – In-Built Microwave Oven
Grandheat 2000 Built-in Black
Brand: Cecotec
Model: 1375
Color: Black
Capacity: 20L 
Timer: 95min
Glass Tray Size (Dia.): Ø24.5cm
Rated Input Power (Grill): 900W
Rated Input Power (Microwave): 1200W
Rated Output Power (Microwave): 700W
Microwave Frequency: 2450MHz
Rated Voltage: 230V-240Hz
Rated Frequency: 50Hz
Overall Dimension (W x D x H):
Centimeter (cm): 59.5 x 32 x 39cm
Inch ("): 23.4" x 12.6" x 15.4"
Warranty: 12 Month Warranty
Features:
Timer up to 95 minutes.
20-litre digital built-in microwave.
The glass tray has a 24.5-cm diameter.
Inside coated with ceramics for easy cleaning.
The control panel consists of buttons and a knob.
The door can be easily opened by pressing a button.
900-W grill for perfect grilling results, fast and simple.
Elegant black design, perfectly suits any type of kitchen.
It features Child lock system to prevent accidents from occurring.
Quick Start: Instant operation at top power for the selected time.
700 W in 6 power levels and combinable microwave and grill functions.
Auto start: It can be programmed to turn on under the desired mode or function at the desired time.
Weight defrost mode, for you to defrost foods fast and evenly preserving food's textures and natural freshness.
It includes 9 preset functions for cooking different types of foods: Milk/coffee, rice, pasta, meat, potatoes, fish, chicken, skewers and Auto reheat function.
Click here for User Manual
We Also Recommend