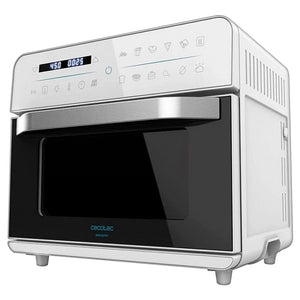 Air Fryer Oven (25L)
SKU:
50675
1800W BAKE&FRY 2500 TOUCH WHITE 
Model no: 2255
Brand: CECOTEC
ALU: 8435484022552
Color: WHITE
Size: 25LTR

Cecotec – Oven
Bake&Fry 2500 Touch White
Brand: Cecotec
Model: 2255
Color: White
Capacity: 25 Liter
Rated Power: 1800W
Timer: up to 12 hours
Adjustable Temperature: up to 230°C
No. of Preset Function: 12 (fries, chicken wings, steaks, pizzas, vegetables, toaster, roast, bake, broil, dehydrate, reheat and ferment)
Convection Cooking: Yes
Accessories Included:
Grill Rack – x1
Baking Tray – x1
Frying Basket – x1
Fat-Drip Tray – x1
Dimension (W x D x H): 44.5 x 36.5 x 37.5cm (17.5" x 14.4" x 14.8")
Warranty: 12 Months Warranty
Features:
25-litre capacity.
12-hours timer.
High-end kitchen design.
Operation indicator light.
1800 W, for a high performance.
Handle with stainless-steel trim.
Adjustable temperature up to 230 ºC.
Family size, suitable for a whole chicken or turkey.
Includes baking tray, grill, fryer basket and fat-drip tray.
Detachable accessories to guarantee an easy and fast cleaning
Equipped with inside light, which helps control the cooking process.
Large touch display. Quickly select any menu function with a single touch.
5-layer, high-strength double-glazed door that helps to maintain the temperature.
4 different adjustable height levels, to place the tray wherever each food requires.
The surface reaches a low temperature level, making it much safer and less damaging to use.
The power of air frying in an oven. Get foods with similar characteristics to fried foods and with hardly any fat.
Cooks homogeneously through convection with the air surrounding the food and achieves tender and tasty results.
12 preset functions: French fries, chicken wings, steak, pizza, vegetables, roast, grill, bake, broil, grill, dehydrate, heat and ferment.
Click here for User Manual
We Also Recommend