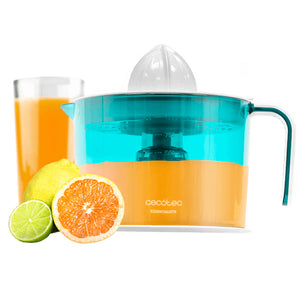 Juicer (1L)
SKU:
48046
40W ESSENTIALVITA ADJUST WHITE
Model no: 4147
Brand: CECOTEC
ALU: 8435484041478
Color: WHITE/BLUE
Size: 1L
Cecotec – Juicer
EssentialVita Adjust White
Brand: Cecotec
Model: 4147
Capacity: 1 Liter
Color: White/Blue
Rated Power: 40W
Accessories Included: Detachable juicer cones (x2), Dust Cover (x1) & Pulp regulator filter (x1)
Warranty: 12 Months Warranty
Features:
Removable for easy cleaning.
Cable storage space and non-slip base.
Electric citrus juicer with 40 W of power.
Included: dust cover to protect it when you store it.
Two removable cones for citrus fruits of different sizes.
Non-electric parts that are suitable for cleaning in the dishwasher.
Spout with anti-drip system to pour the juice more easily and cleanly.
It starts working automatically by simply pressing the fruit on the cone.
Drum made with eco-friendly material, calibrated in ml with 1 L capacity.
Included: an adjustable pulp regulator filter to make juices with more or less pulp.
Two-way rotation to take maximum advantage of the fruit, thus increasing the quantity of juice extracted.
We Also Recommend