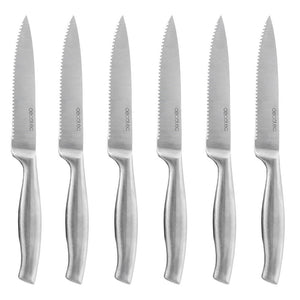 Steak Knife Set (6 PCs)
SKU:
44614
PROFESSIONAL MEAT KNIVES 
Model no: 1025
Brand: CECOTEC
ALU: 8435484010252
Color: SILVER

Cecotec – Steak Knives
Steak Knives (6 Pieces)
Brand: Cecotec
Model: 1025
Color: Silver
Blade Length: 12cm Long
Blade Thick: 1.5mm
Handle Length: 11.6cm Long
Material: 3Cr13 Stainless Steel
Features:
Not suitable to be used in Dishwasher
Set of 6 professional meat knives with serrated.
A well-sharpened saw helps both in the cooking process and when eating at the table.
Thoroughly washing knives is important for their care and maintenance. Preferably with soap and water, after use, and dry them well to prevent rust.
We Also Recommend