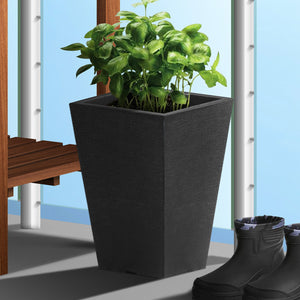 Plant Pot
SKU:
44199
PLASTIC 
Model no: AA08-24
Brand: CH&Q
ALU: 5486578455292
Size: 25X25X35CM
Color: BLACK
CH&Q – Plant Pot
Brand: CH&Q
Model: AA08-24
Color: Black
Shape: Square
Material: Plastic
Overall Dimension (W x D x H): 25 x 25 x 35cm (9.8" x 9.8" x 13.8")
Features:
Removable Inner Pot included.
Made of durable plastic material.
Decorate your home with plants combined with a plant pot to suit your style.
Perfect for bringing natural greenery and bright style to your outdoor spaces.
We Also Recommend