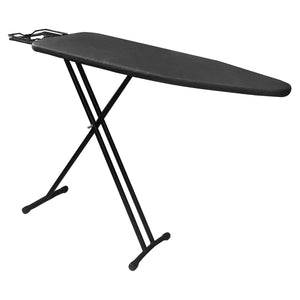 Ironing Board (38 x 121cm)
SKU:
53245
METAL 
Model no: SC04-01
Brand: CH&Q
ALU:  8962023051105
Color: ASST
Size: 38X121CM
CH&Q – Ironing Board
Brand: CH&Q
Model: SC04-01
Color: Assorted Colors
Board size: 38 x 121cm (15" – 47.6")
Adjustable Height: 86 – 100cm (33.9" – 39.4")
Material: Metal + Cotton
Features:
Removable Cover.
Ergonomic Iron Rest.
With Lever to Close, Open and Adjust Height.
Ideal space-saving solution for storing your ironing board out of the way and off the floor.
We Also Recommend