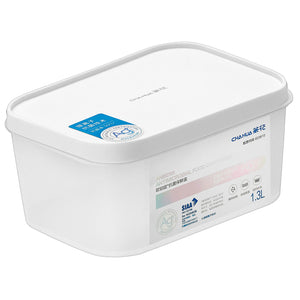 Food Container (1.3L)
SKU:
50803
ANTIMICROBIAL PLASTIC WITH LID 
Model no: 000015
Brand: CHAHUA
ALU: 6921489047581
Size: 1.3L
Color: CLEAR
Chahua – Food Container
Brand: Chahua
Model: 000015
Color: Clear
Capacity: 1.3 Liter (1300ml)
Material: PP + TPE  
Dimension (W x D x H): 17.2 x 12.8 x 8.4cm (6.8" x 5" x 3.3")
Features:
Good Sealing is for no freeze odors.
Extra High Bottom is for wear-resistance.
Easily stack for a convenient and space-saving storage.
A curved corner is bulged in the lid rim for easy opening.
See through body allows you to see the type of food at a glance.
Ag+ additive helps to inhibit 99% of E.coli and S.aureus and keeps the bacteria away from your food.
We Also Recommend