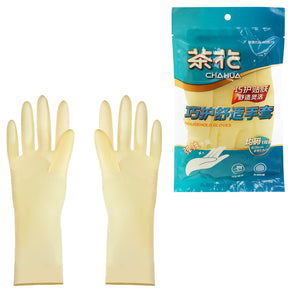 Household Gloves (1 Pair)
SKU:
48663
LATEX 
Model no: 224002
Brand: CHAHUA
ALU: 6921489047758
Color: CREAM

Chahua – Gloves
Household Gloves (1 Pair)
Brand: Chahua
Model: 224002
Color: Cream
Size: 9.8 x 26cm
Material: Latex
Features:
Good elasticity.
Good Extensibility, waterproof and stain-proof.
Rough palm is designed for non-slip cleaning.
Made of high-quality latex, it is strong and durable.
Soft texture is gentle on the hands and it is also easy to wear and take off.
We Also Recommend