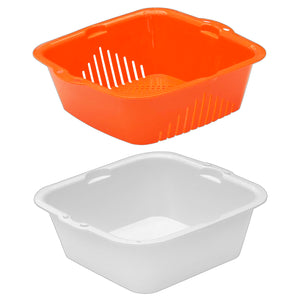 Strainer
SKU:
46872
29.5 X 27 X 9.5CM (PLASTIC TRICKLING SIFTER)
Model no: 1160
Brand: CHAHUA
ALU: 6921489026210
Color: ASST
Chahua – Strainer
Trickling Sifter
Brand: Chahua
Model: 1160
Color: Assorted Color
Material: PP Plastic
Dimension (W x D x H): 29.5 x 27 x 9.5cm (11.6" x 10.6" x 3.7")
Features:
Easy grip handle.
Made of PP material, it is safe and durable.
Many perforations allow water to drain quickly from food.
Convenient strainer to easily rinse, soak and drain without taking up space in your sink.
We Also Recommend