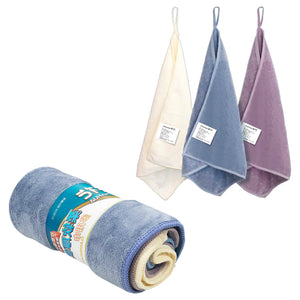 Cleaning Cloth (3 PCs)
SKU:
50769
POLYESTER (35 X 35CM) 
Model: 220002
Brand: CHAHUA
ALU: 6921489047710
Size: 35X35CM
Color: ASST

Chahua – Cleaning Cloth
3 Pieces
Brand: Chahua
Model: 220002
Color: Assorted Color
Size (each): 35 x 35cm (13.8" x 13.8")
Material: 80% Polyester Fiber + 20% Nylon
Features:
Available to hang on a hook.
Multi-layers gauge is great for removing dust.
Absorbs water quickly and efficiently for any tasks.
Soft materials will not scratch your hands and the wares surface.
We Also Recommend