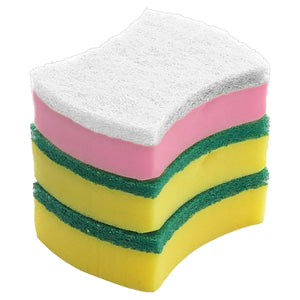 Scourer (3 PCs)
SKU:
48661
SPONGE SET 
Model: 221003
Brand: CHAHUA
ALU: 6921489047925
Color: ASST
 Chahua – Scourer
Sponge Scourer (3 Pieces)
Brand: Chahua
Model: 221003
Size (Each): 10.5 x 8.5 x 3cm
Color: Assorted Color
Features:
Comfortable grip.
Quickly wipes surfaces clean.
Abrasive material helps to tackle tough chore.
Abrasive and non-abrasive side scours away tough stains and messes with ease
The non-abrasive side absorbs water quickly and easy to foam richly.
We Also Recommend