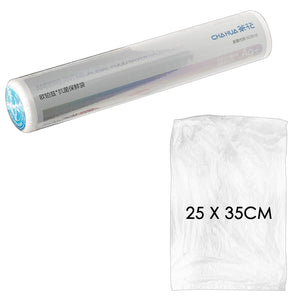 Fresh Keeping Bag (150 PCs)
SKU:
46778
AG+ ANTIMICROIBIAL BAG 
Model no: 304007
Brand: CHAHUA
ALU: 6921489046072
Size: 35X25CM
Color: CLEAR
Chahua – Fresh Keeping Bag
Anbers Antimicrobial Food Storage Bag (150 Pieces)
Brand: Chahua
Model: 304007
Color: Frost Clear
Size: 35 x 25cm
Material: PE Plastic
Temperature Resistance: -20 °C -100 °C
Features:
Freeze & microwave available.
Pre-cut design makes it easy to tear every time.
Made of PE material, it is safe and strong enough to resist rips and tears from stretch, grip, and seal.
Ag+ additive helps to inhibit 99% of E.coli and S.aureus and keeps the bacteria away from your food.
Holds self-serve items such as fresh fruit, vegetable, candy, and bread loaves and vegetables storage.
Works with all clamp-style suction vacuum sealer machines for a secure airtight seal. Or knot for Moisture-proof and pest-proof use.
We Also Recommend