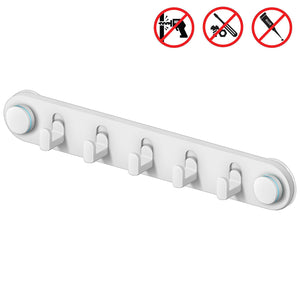 Hook
SKU:
48599
ADHESIVE (PLASTIC)
Model no: 255002
Brand: CHAHUA
ALU: 6921489042746
Color: WHITE
Size: 5KG

Chahua – Hook
Adhesive

Brand: Chahua
Model: 255002
Color: White
No. of Hooks: 5 Hooks
Holding Weight Capacity: 5kg
Material: ABS + PVC + PP Plastic
Dimensions (W x D x H): 43.2 x 3.8 x 6.5cm (17" x 1.5" x 2.6")
Features:
Adhesive designed to hold well to any wall surface.
Creates a convenient hanging space in any bath or shower.
Perfect for hanging and organizing your face towel, bath towels and clothes.
NO TOOLS, NO DRILLING, NO SCREWS, NO HOLES: With the adhesive design, it becomes extremely easy to install.
We Also Recommend