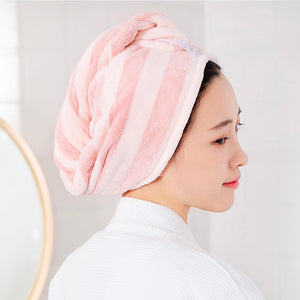 Hair Towel (25 x 65cm)
SKU:
50845
HAIR DRYING  
Model: 254001
Brand: CHAHUA
ALU: 6921489047970
Color: ASST

Chahua – Towel
Hair Drying Towel
Brand: Chahua
Model: 254001
Color: Assorted Color
Size: 65 x 25cm (25.6" x 9.8")
Material: 83% Terylene + 17% Nylon
Features:
Dyed hair fades slower when using the towel.
It is super soft to the hair, and light weight to your head.
It creates less friction and prevents lessen frizz on your hair.
Solid button and elastic band for easy buckle up and release.
Made of super-absorbent microfiber fabric, it gently and quickly dry hair.
We Also Recommend