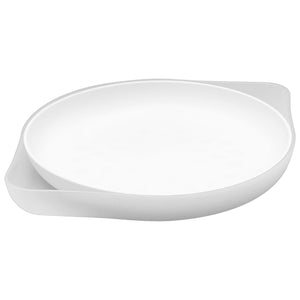 Serving Tray (33 x 26cm)
SKU:
47522
AG+ ANTIRMICROBIAL (PLASTIC)
Model no: 19003
Brand: CHAHUA
ALU: 6921489048618
Color: WHITE
Chahua – Serving Tray
Anbers Antimicrobial 2-in1 Fruit Tray
Brand: Chahua
Model: 19003
Color: White
Material: PP Plastic
Dimension (W x D x H): 33.3 x 26 x 3.6cm (13.1" x 10.2" x 1.4")
Features:
Perfect for serving different varieties of food at holidays, parties, weddings, even for everyday use.
Ag+ additive helps to inhibit 99% of E.coli and S.aureus and keeps the bacteria away from your food.
Two in one serving bowls set keeps your food and rubbish repeatedly and organized. And top bowl is for fruits, nuts & candies and bottom bowl is for discarded shells, pits, stems etc.
We Also Recommend