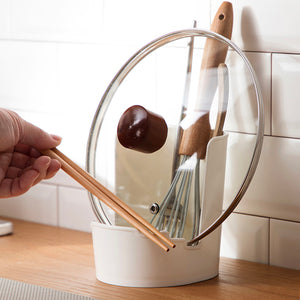 Cutlery Holder
SKU:
46796
PLASTIC
Model no: 17004
Brand: CHAHUA
ALU: 6921489041336
Color: WHITE
Chahu – Cutlery Holder
Brand: Chahua
Model: 17004
Color: White
Material: Plastic
Dimension (W x D x H): 13 x 12 x 12.5cm (5.1" x 4.7" x 4.9")
Features:
Made of PP material, it is safe and durable.
3-layer slots are for variety of solutions to storage.
It enhances the stability and avoids scratches to the counter.
Organize your kitchen and dining area with this Cutlery Holder.
Great for storing utensils: spatulas, ladles, spoons, tongs, whisks and more suitable for storing and keeping your favorite cooking utensils accessible on the countertop.
We Also Recommend