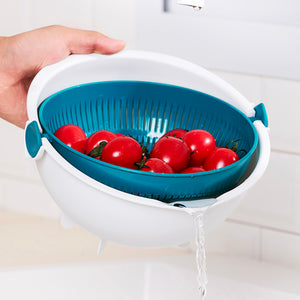 Strainer
SKU:
50840
PLASTIC 
Model no: 15001
Brand: CHAHUA
ALU: 6921489046911
Color: ASST
Chahua – Strainer
Strainer with Bowl
Brand: Chahua
Model: 15002
Color: Assorted Color
Material: Plastic
Dimension (W x D x H): 25.5 x 27 x 14.1cm (10" x 10.6" x 5.6")
Features:
Easy grip handle.
Pour spout allows for quick draining.
High bottom is non-slip and wear-resistance.
2 Inner basket with many perforations for straining.
Convenient strainer is to easily rinse, soak and drain.
Outer bowl with many perforations rotated by 360 degree is for retaining water.
We Also Recommend