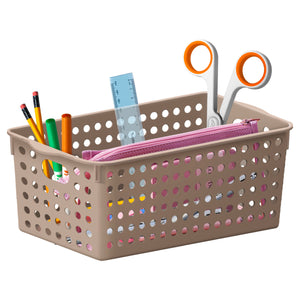 Storage Basket
SKU:
46863
30 X 17.5 X 11CM (PLASTIC) 
Model no: 2897
Brand: CHAHUA
ALU: 6921489035496
Color: ASST
Chahua – Storage Basket
Brand: Chahua
Model: 2897
Color: Assorted Color
Material: PP Plastic 
Dimensions (W x D x H): 30 x 17.5 x 11cm (11.8" x 6.9" x 4.3")
Features:
Easy to stack.
Multi-purpose storage.
Hollow design is for easy ventilation.
Made of PP material, it is strong and durable.
Perfect for storing many different things such as scissors, pens, pencils, crayons, markers, sharpeners, rulers, erasers, glue, and staplers etc.. Additionally, you can use them for other items, such as cosmetics, toys, receipts, coupons, medicines, food/ingredients, remote controls, spools of thread and other art and craft supplies.
We Also Recommend