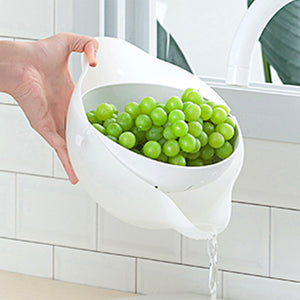 Strainer
SKU:
50839
ANTIMICROBIAL SIFTER 
Model no: C36007
Brand: CHAHUA
ALU: 6921489041442
Color: WHITE
Chahua – Strainer
Brand: Chahua
Model: C36007
Color: White
Material: PP Plastic
Dimension (W x D x H): 19.3 x 26.5 x 10cm (7.6" x 10.4" x 3.9")
Features:
Outer bowl for retaining water.
Bowls nest for compact storage.
Inner basket with holes for straining.
Pour spout allows for quick draining.
Adorable color adds fun and beauty to your kitchen.
Ideal for washing vegetables & fruits and draining pasta and salad.
Perfect for serving fruits, nuts & candies. Top layer for serving, and bottom layer for discarded shells, pits & stems.
We Also Recommend