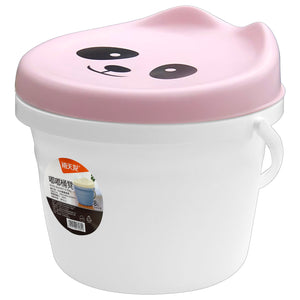 Stool (8L)
SKU:
47149
PLASTIC KITTY BUCKET STOOL 
Model no: T-3080
Brand: CITYLIFE
ALU: 6941113130809
Color: ASST
Size: 8LTR

Citylife – Bar Stool
Kitty Bucket Stool
Brand: Citylife
Model: T-3080
Color: Assorted Color
Capacity: 8 Liter
Material: PP Plastic  
Dimension (Dia. x H): 28.8 x 26.5cm (11.3" x 10.4")
Features:
Designed for easy carrying with handle.

Encourage your children to store their toys.
Rounded edges and smooth finish for safety.
Made of 100% Virgin Material (BPA-free, Pure, Clean and Safe!)
Cute and sturdy design for kid's storage uses. Also doubles as a stool for play time!
We Also Recommend