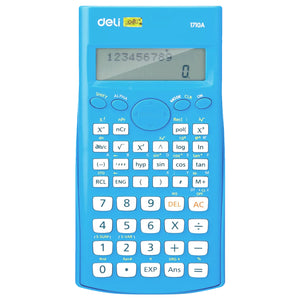 Scientific Calculator
SKU:
48316
240 SCIENTIFIC FUNCTIONS
Model no: 1710A
Brand: DELI
ALU: 6935205373632
Color: BLUE

Deli - Scientific Calculator
10 + 2 Digits
Brand: Deli
Model: No: 1710A
Color: Blue
No. of Scientific Functions: 240
Material: Plastic + Rubber
Dimension (W x H): 8.8 x 16.5 x 2.3cm
Features:
Clear Screen.
Battery Power.
Rubber Button.
Perfect for Students.
240 Scientific Functions.
Lightweight and easy to carry.
Includes detachable slip cover.
The 12-digit display value is clear and clear, which improves efficiency.
We Also Recommend