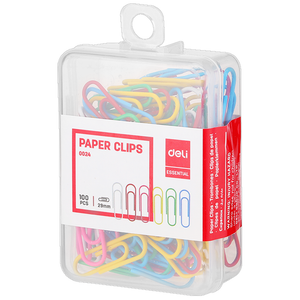 Paper Clip, 29mm (100 Pcs)
SKU:
39796
U-SHAPED 
Model no: 24
Brand: DELI 
ALU: 6921734900241
Size: 29MM
Color: ASST
Deli – Paper Clips
100 Pieces per Box
Brand: Deli
Model: 0024
Color: Assorted Color
Size: 29mm
Material: PVC Wrapping + Wire Body
Dimension (Box): 55 x 25 x 72mm
Features:
Smooth surface prevents tears, durable.
High toughness to meet handcraft requirements.
Color nickel plated surface with slip resistance.
These paper clips will keep your paperwork together so you will not have to worry about misplacing loose papers.
We Also Recommend