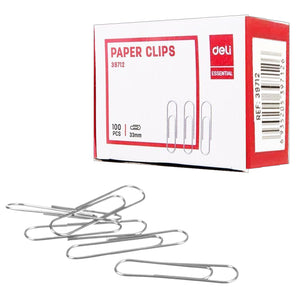 Paper Clip, 33mm (100 PCs)
SKU:
48250
U-SHAPED 
Model no: 39712
Brand: DELI 
ALU: 6935205397126
Size: 33MM
Color: SILVER
Deli – Paper Clips
100 Pieces per Box
Brand: Deli
Model: No: 39712
Color: Silver
Size: 33mm
Material: Nickel-plated Iron Wire Material
Dimension (Box): 6.2 x 4.3 x 2cm
Features:
Durable.
Nickel Plated Paper Clip.
These paper clips will keep your paperwork together so you will not have to worry about misplacing loose papers.
We Also Recommend