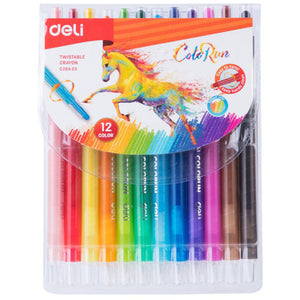 Crayon Set (12 PCs)
SKU:
45933
12 COLORS (TWISTABLE)
Model no: C20403
Brand: DELI
ALU: 6935205374097
Color: ASST
Deli – Crayon Set
12 Colors
Brand: Deli
Model: C20403
Color: Assorted Color
Tube Design: Round
Number of Colors: 12 Colors
Material: Pigment + Wax
Dimension (W x D x H): 134 x 13 x 180mm
Features:
Deli Twistable Crayon features the fun twist up barrel that requires no sharpening or peeling to keep hands clean.
These non-toxic crayons come in a portable plastic case, small enough to fit in bag.
Easy and Fun to Use: Convenient to use, twist to dispense.
Smooth Coloring: Made of high quality wax, smooth and easy to dye.
Bright Colors: Deep and dense color, bright and abundant for improve visual impact.
Eco-Friendly: Non-Toxic and safe for children use.
We Also Recommend