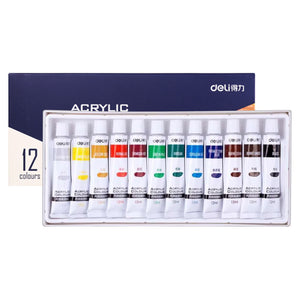 12-pcs Poster Color Tube Set
SKU:
52962
ACRYLIC COLOR 
Model no: 73856
Brand: DELI
ALU: 6921734926265
Size: 12ML
Color: 12-COLORS
Deli – Poster Color Tube Set
Acrylic Colors (12 Colors)
Brand: Deli
Model: 73856
Color: 12 Colors
Capacity (each color): 12ml
Box Dimension (W x D x H): 24 x 11 x 2cm (9.4" x 4.3" x 0.8")
Features:
A set of 12 colors.
Pure Bright Colors.
High color saturation.
Good coverage, can mix and stack colors freely.
A variety of uses for upper painting, stone painting, clothes painting, bamboo decoration.
We Also Recommend