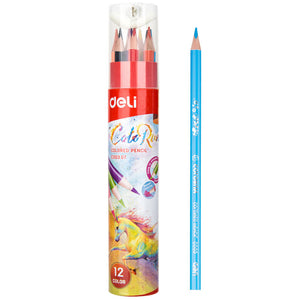 Color Pencil Set (12 PCs)
SKU:
45932
12 COLORS
Model no: C00307
Brand: DELI
ALU: 6935205308962
Color: ASST
Deli – Color Pencil Set
12 Colors
Brand: Deli
Model: C00307
Color: Assorted Color
Tube Design: Triangular
Packaged form: Paper Tube
Number of Colors: 12 Colors
Dimension (Dai. x H): 35mm x 193mm
Features:
Easy to sharpen.
High quality lead.
Made from softened poplar.
Balanced coloring and anti faded.
Triangular tube design for a comfort grip.
Comes with Sharpener on top of the cover.
Colorful high quality lead for bright color and smooth coloring.
We Also Recommend