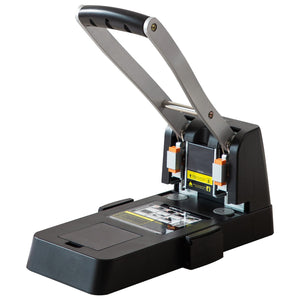 Two Hole Puncher
SKU:
39841
HEAVY DUTY (150 SHEETS) 
Model no: 150
Brand: DELI
ALU: 6921734901507
Color: BLACK
Deli- Two Hole Puncher
Heavy Duty
Brand: Deli
Model: 0150
Color: Black
Punching Capacity: 150 Sheets (80gsm)
Hole Distance: 80mm
Hole Diameter: 6mm
Throat Depth: 12mm
Dimension (W x D x H): 160 x 360 x 195mm (6.3" x 14.2" x 7.7")
Features:
Large handle for extra leverage.
2-Hole metal heavy duty lever punch.
Makes quick work of big punching jobs.
Plastic container for storage of confetti – no mess!!
Strong plastic base reinforced with metal to ensure great durability.
Built-in adjustable ruler for quick paper positioning and accurate punching.
Easy punching, hollow punch head technology requires less punch force easily punch 150 sheets.
We Also Recommend