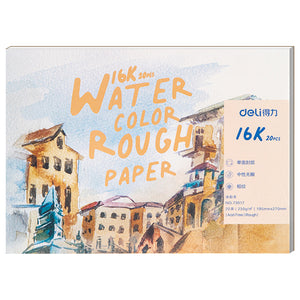 Water Color Paper, 16k (20 Sheets)
SKU:
52683
ROUGH PAPER
Model: 73917
Brand: DELI
ALU: 6935205323101
Size: 16K
Color: WHITE
Deli – Water Color Paper
20 Sheets
Brand: Deli
Model: 73917
Size: 270 x 195mm (16K)
Color: White
No. of Sheets: 20 Sheets (230gsm)
Applicable Pigments: Gouache, Acrylic, Watercolor
Features:
Clear gain pattern.
Strong coloring ability of cotton pulp paper.
Retains moisture in the paper for color haloing.
Made of high-quality cotton pulp, good stiffness, strong resistance to bending.
We Also Recommend