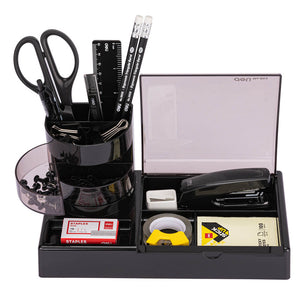 Desk Organizer (16 PCs)
SKU:
48139
STATIONERY SET 
Model no: 38254
Brand: DELI 
ALU: 6973504002150
Color: BLACK

Deli – Desk Organizer
16 Pieces Stationery Set
Brand: Deli
Model: No: 38254
Color: Black
Material: PS Plastic
Dimension (W x D x H): 26.2 x 12.9 x 11.5cm
Set Includes:
Desk Organizer
#10 Stapler
#10 Staples
Pen
2pcs Pencils
Sharpener
Eraser
Ruler
Small Cutter
Scissor
20pcs Paper Clips
4pcs Binder Clips
9pcs Push Pins
Sticky Note (100 Sheets)
Adhesive Tape with Dispenser
Features:
Multi-purpose use.
Anti-Dust translucent cover.
Stable construction for a durable use.
The stand consists of 7 compartments and 2 trays for storing stationery.
We Also Recommend