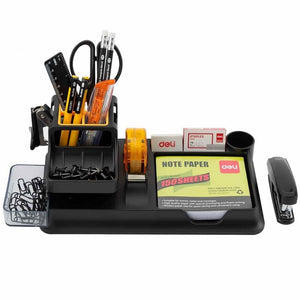 Desk Organizer (17 PCs)
SKU:
48140
STATIONERY SET 
Model no: 38252A
Brand: DELI 
ALU: 6935205382528
Color: BLACK

Deli – Desk Organizer
17 Pieces Stationery Set
Brand: Deli
Model: No: 38252A
Color: Black
Material: HIPS Plastic
Dimension (W x D x H): 26 x 10.3 x 15cm
Set Includes:
Desk Organizer
Staple Remover
#10 Stapler
#10 Staples
Eraser
2pcs Pencils
2pcs Pens
Scissor
15cm Ruler
10pcs Push Pins
20pcs Paper Clips
Stick Note, 107 x 96mm (150 Sheets)
Small cutter
Adhesive Tape
Features:
Multi-purpose use.
Stable construction for a durable use.
The stand consists of 7 compartments.
We Also Recommend