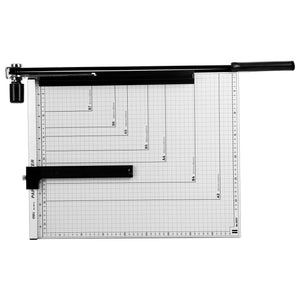 Paper Trimmer (18" x 15")
SKU:
39802
STEEL BASE 
Model no: 8012
Brand: DELI
ALU: 6921734980120

Deli - Paper Trimmer
Steel Base
Brand: Deli
Model: 8012
Base Scale Size: 46 x 38cm (18" x 15")
Material (Base): Steel
Features:
Durable use: Sharpened blade for easy cut.
Anti slip feet: For better stability on the surface. Not easy to slide.
Good Quality: High quality steel base with very resistant graduation marking.
Unique design for a better use: Safe locking clip on handle to ensure safety. Cut size can be easily adjusted with the sheet stop and also equipped with emergency stop device.
Comfort handle: Ergonomic design to ensure the comfortable and effortless. Easy for long time working.
We Also Recommend