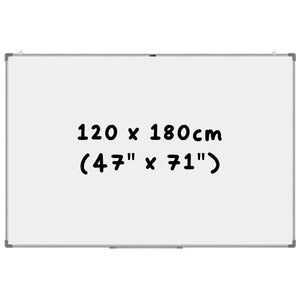 Whiteboard
SKU:
40144
MAGNETIC
Model no: 39037
Brand: DELI
ALU: 6935205390370
Color: WHITE
Size: 120X180CM

Deli – White Board
Magnetic
Brand: Deli
Model: 39037
Color: White
Board Size: 120 x 180cm (47.2" x 70.9")
Material (Frame): Aluminum
Features:
Durable and easy to use.
Good quality surface coating.
Sliding hanging parts included.
Smooth surface wipes clean easily.
Foldable Pen tray at the base of the board.
Aluminum Frame with ABS Corner for longer shelf life.
Magnetic Surface: Smooth & durable magnetic writing surface, easy dry wipe.
We Also Recommend