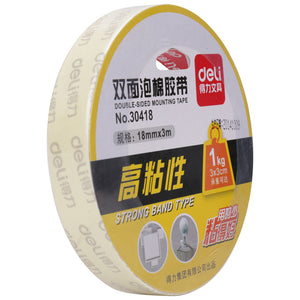 Foam Tape
SKU:
52923
18MM X 3MM 
Model no: 30418
Brand: DELI
ALU: 6935205304186
Deli – Foam Tape
Double-sided Mounting Tape
Brand: Deli
Model: 30418
Color: White
Size: 18mm x 3m
Width: 18mm
Length: 3m
Thickness: 1mm
Features:
Easy to peel off.
Strong adhesion.
Load-bearing up to 1kg.
Use for Home, Office, Business and School.
Able to be torn by hand so there is no need for scissors.
Suitable for picture frames, hooks, boards, posters etc.
We Also Recommend