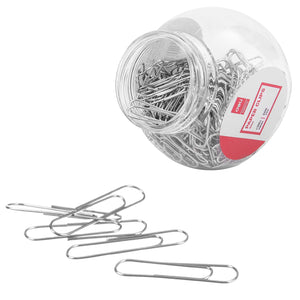 Paper Clip, 29mm (200 PCs)
SKU:
48251
U-SHAPED 
Model no: 0052
Brand: DELI 
ALU: 6921734900524
Size: 29MM
Color: SILVER
Deli – Paper Clips
200 Pieces per Bottle
Brand: Deli
Model: No: 0052
Color: Silver
Size: 29mm
Material: Nickel-plated Iron Wire Material
Dimension (Box): 75 x 75mm
Features:
Durable.
Nickel Plated Paper Clip.
Jar Style Packing, asy to store and take.
These paper clips will keep your paperwork together so you will not have to worry about misplacing loose papers.
We Also Recommend