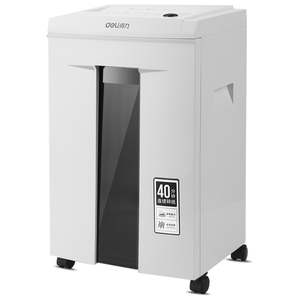 Paper Shredder (20L)
SKU:
45887
6 SHEETS
Model no: 9912
Brand: DELI
ALU: 6921734999122
Size: 20LTR

Deli – Paper Shredder
6 Sheets
Brand: Deli
Model: 9912
Capacity: 20L
Cut Type: Strip Cut
Rated Power: 140W
Rated Voltage: AC220V
Rated Frequency: 50Hz
Confidential Rate: Level 5
Noise (dB): <60dB
Continuous Run Time: 40min
Shredding Speed: 1.8m/min
Shredding Size: 2 x 12mm
Paper shredding capacity: 6 Sheets
Paper entrance width: A4
Dimension: 350 x 255 x 550mm
Net weight: 8kg
Features:
Plug-and-play, easy to operate.
Smart and elegant, a good decoration in the office.
Dual purpose: office and household use.
Plastic material, lightweight, solid, and durable.
20L paper basket, enough capacity, do not need to clean it frequently.
We Also Recommend