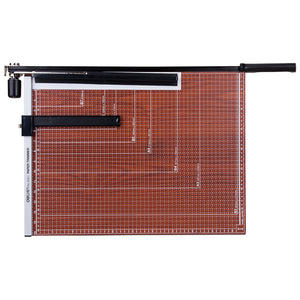 Paper Trimmer (21" x 16")
SKU:
52705
WOODEN BASE 
Model no: 8001
Brand: DELI
ALU: 6921734980014

Deli – Paper Trimmer
Wooden Base
Brand: Deli
Model: No: 8001
Color: Brown
Base Scale Size: 53 x 41cm (21" x 16")
Material (Base): Wood
Features:
Anti-slip Feet: For better stability of placing trimmer.
Comfort handle: Ergonomically designed for comfort grip.
Sharp Blade: Smooth cutting, neat cu surface, avoiding waster of paper.
Wear-resistant graduation: it's still clearly visible after long-term use reducing cutting error.
Safe locking clip on handle: Be locked when not in use, saving space and be convenient for storage.
We Also Recommend